For many American diabetics, finger pricks will soon be replaced by a wearable sensor the size of a bottle cap.
The Food and Drug Administration approved Abbott Laboratories' FreeStyle Libre, a small sensor wire inserted below the skin's surface on the back of the upper arm that continuously monitors glucose levels — eliminating the need for daily finger pricks. 
The new sensor will be a "game-changer" for diabetic adults, Jefferies analysts, who recommend buying Abbott's stock, wrote in a July note. The FDA approved a similar product from DexCom Inc. in late 2016, but, unlike the Libre, that system must be calibrated with a finger prick twice a day.
"People don't want to prick their fingers," Raj Denhoy, an analyst at Jefferies, said by phone on Wednesday. "They're willing to give up some level of accuracy for the ease of the device." 
The approval, announced late Wednesday, sent DexCom shares slumping after the markets closed. The stock dropped 16 percent to $57, while Abbott jumped 3.6 percent to $54.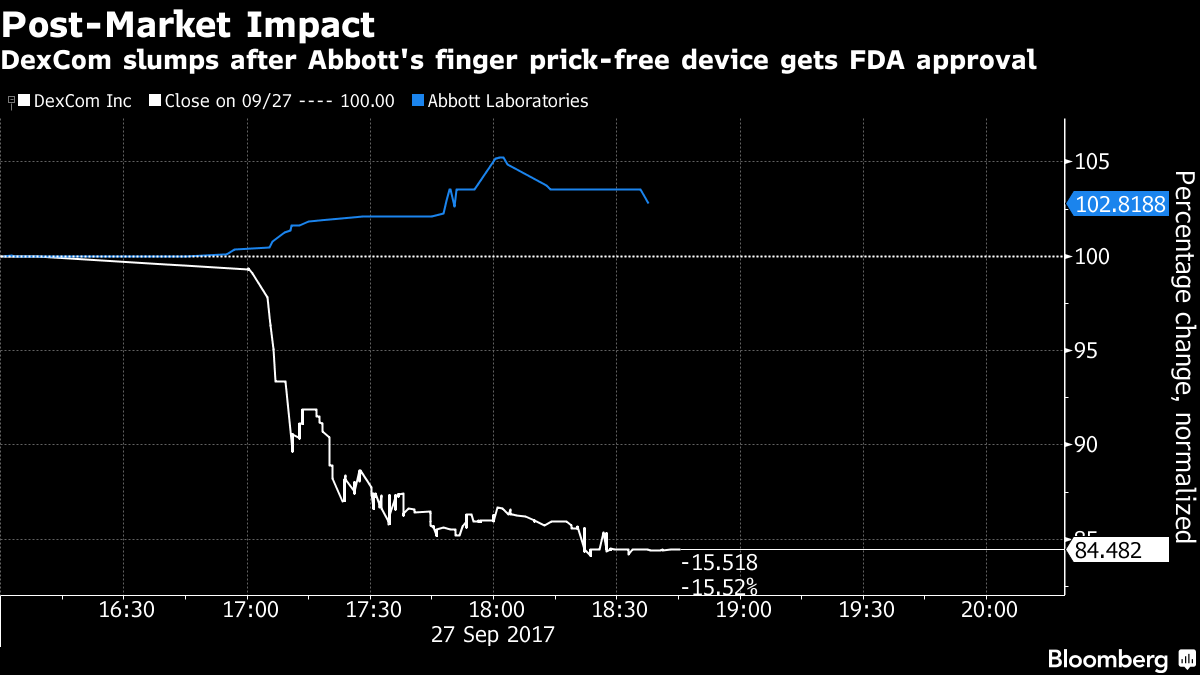 The Libre's cost will be similar to its price in Europe — where the device is sold for the equivalent $140 for a sensor and a reader, the Abbott Park, Illinois-based device maker said. The sensor must be swapped for a new one every 10 days, amounting to a total to about $1,900 a year in Europe, including one reader and 26 sensors.
FreeStyle Libre includes a small hand-held reader that scans the sensor, receives real-time glucose readings and reviews levels from the last eight hours. Abbott said the sensor is water-resistant and can be worn in the shower and while swimming. It can also be scanned over clothing.
More From this publisher : HERE
Recommended Products
Tags: ABBOTT LABORATORIES Americas business DEXCOM INC Europe Food and Drug Administration Healthcare markets science United States
Related Post "FDA Approves First Finger Prick-Free Device for Diabetics"